Each morning of your stay at the Railroad Inn, you can experience our light continental breakfast consisting of pastries, cereals, some baked goods, fruits, toast, coffee, and juices.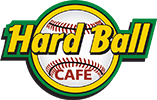 Cooperstown's Only
Outdoor Sports


Bar & Restaurant
Guests at the Railroad Inn can experience a 15% discount at our Hard Ball Café serving baseball cuisine located at 99 Main Street, just a 2-minute walk from the Baseball Hall of Fame. Open from 11 AM- 9 PM *The Hard Ball Café operates from Memorial Day to Labor Day.
Cooperstown's only outdoor sports bar and restaurant. Serving traditional American baseball cuisine with enough variety to please even the pickiest of palates. We like to keep our menu fresh, so we change it up each year.
Relax on Main Street next to Double Day Field and down the Street from The Baseball Hall of Fame. Pull up a seat at our bar and enjoy one of several local beverages we have on draft!